Empower Your Team
with All-In-One Mental Care & Well-being Platform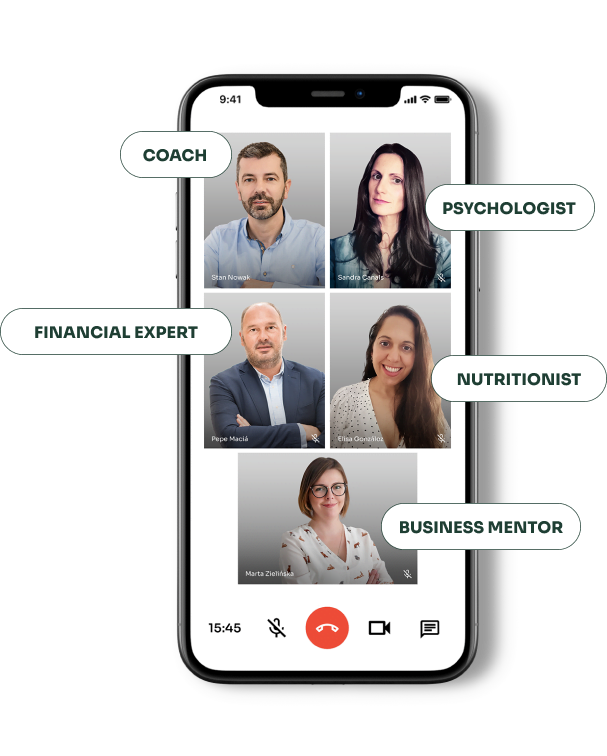 Reduce burnout
of your employees
take care of their well-being with an on demand care
Build a resilient organization
with a productive and efficient team
Improve your business efficiency
by decreasing turnover, rotation and work absences
Trusted by leading companies
>150 000 employees & their families
A truly holistic 360° well-being platform
Before Mindgram:
CEOs are seeing high turnover, increase in sick leaves and high costs, HR are dealing with finding a replacement
HR and managers don't know
how to support employees
in mental health crisis
Employees are lacking resources
to enhance their personal
development skills
After Mindgram:
Employees are happier at work, anytime they have a problem they can send a message to a specialist 24/7
Leaders can undergo training which allows them to detect early symptoms of mental health problems
Employees now have available tools to improve their skills, as well as set professional and personal goals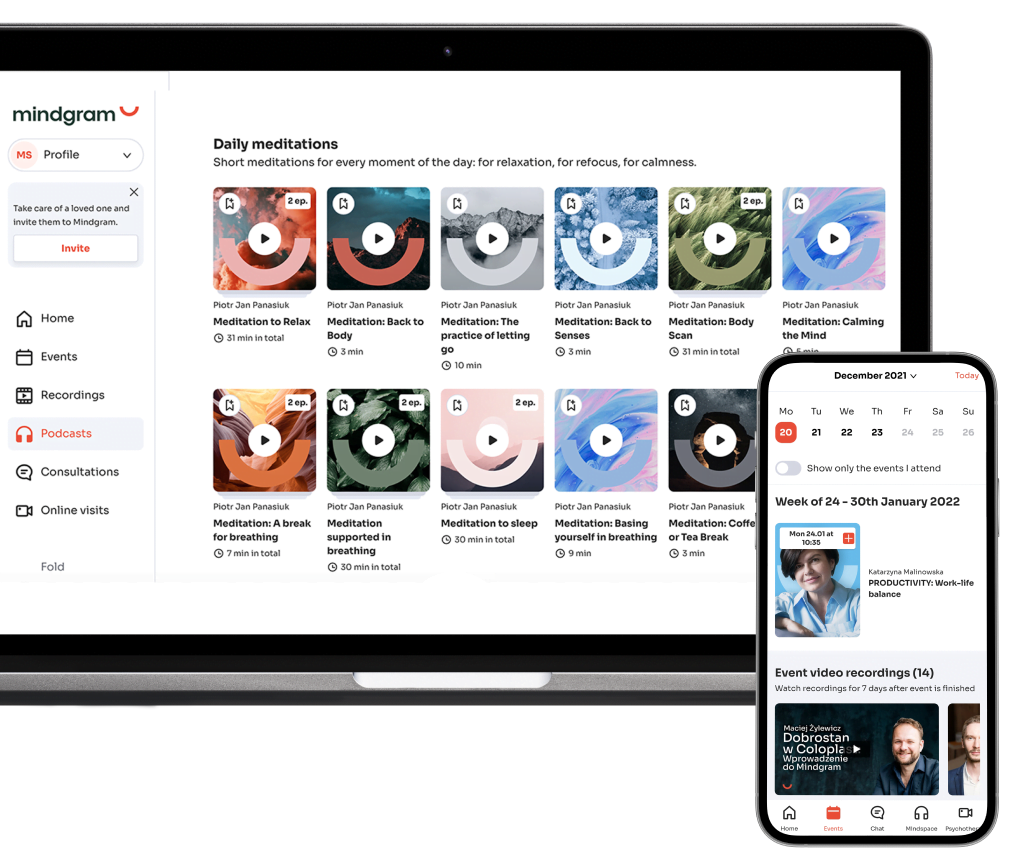 Diagnosis
A tool to assess and track well-being levels in your company and guide an individual through their own well-being journey
Prevention
To avoid mental health decline and burnout with self-care & self development programs, workshops & podcasts
Early intervention
Access to a 24/7 personalized clinical support via chat for your employees
Advanced support
Consultations with psychotherapists & coaches to treat and support the development of emotional and cognitive competencies
Mindgram
difference & impact
500+
qualified well-being specialists
clinically proven methods and science-based approach
150 000+
employees with access
from organizations with 20 to 8000 employees
57%
engagement rate
of the platform users
150+
enterprise clients
e.g. Pfizer, Dentsu, Carlsberg, Orange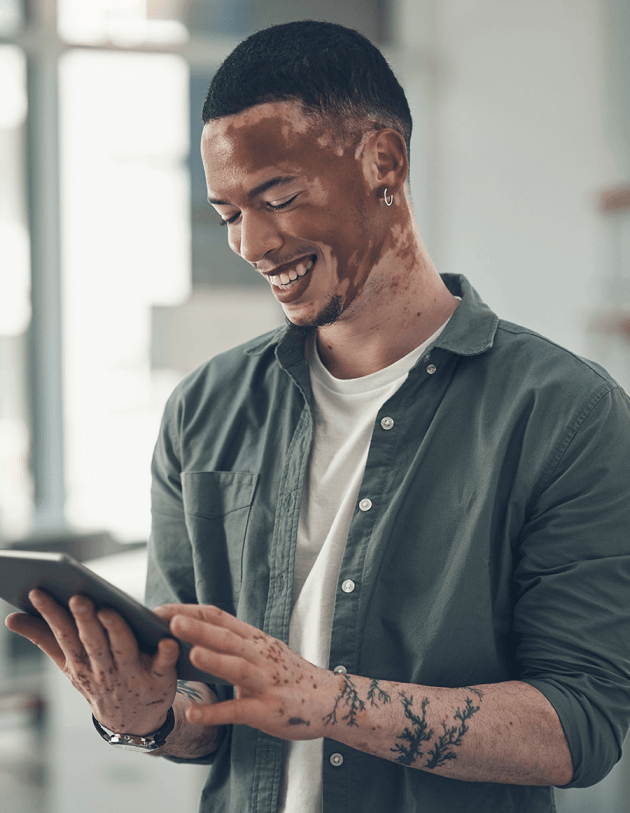 96% customer renewal rate
Preventive mental health care
with life-changing results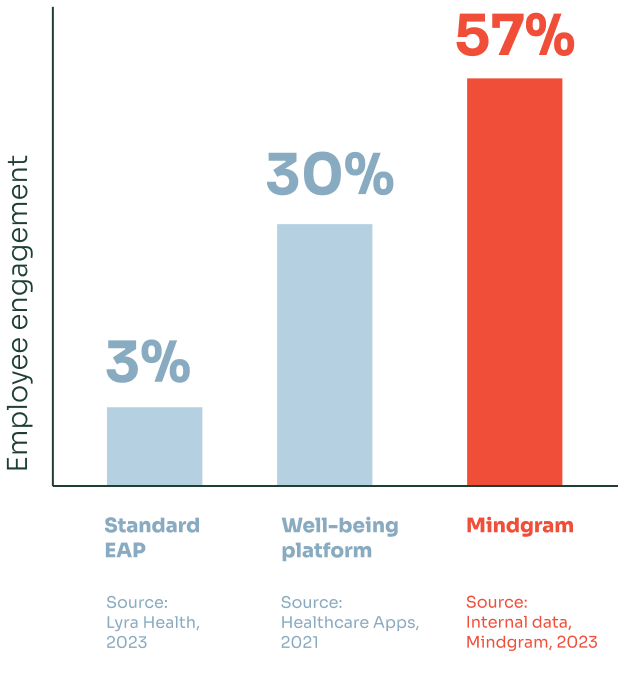 Employees who receive high-quality mental health care are more effective and satisfied at work.
When employees feel better, a company benefits through:
higher productivity
lower absenteeism
decreased turnover
reduced presenteism
Mindgram combines traditional clinics, online psychology platforms, well-being programs and EAP into one comprehensive solution.
Employee well-being
is a new business metric
Source: the ROI in Workplace Mental Health Programs: Good for People Good for Business, Deloitte.
Mindgram helps organizations increase business efficiency and optimize costs as well as employees achieve their personal goals by providing access to mental health and well-being solutions
Source: the ROI in Workplace Mental Health Programs: Good for People Good for Business, Deloitte.
Organization support at all levels
education on mental health and well-being
close cooperation with HR departments
individual support for leaders and employees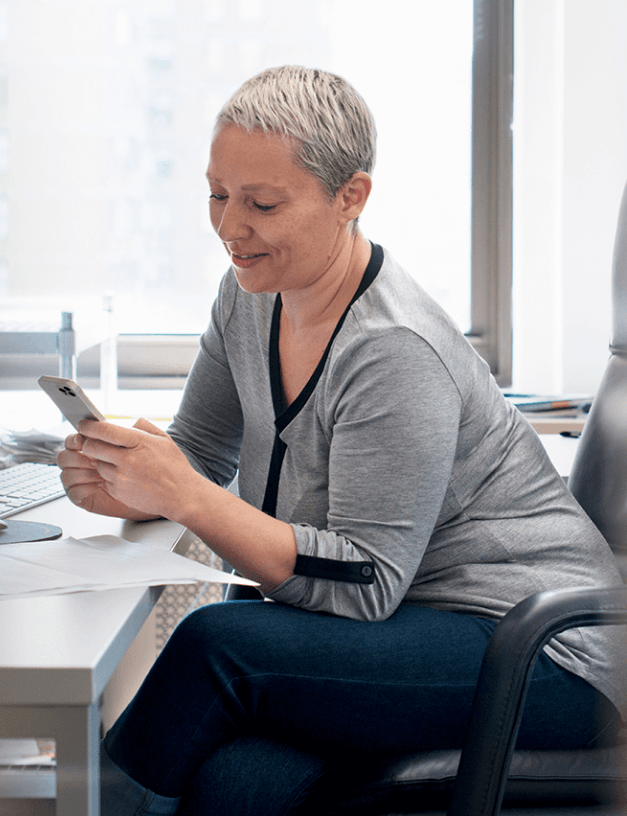 Why do our clients choose Mindgram
At Healthy Poke we have always been promoters of healthy habits, eating in a balanced way and having adequate physical activity. Thanks to Mindgram we have managed to incorporate that 3rd fundamental column which is mental and emotional well-being. We are delighted with this initiative

True well-being is balancing mental and physical health, knowing your needs and knowing how to meet them. It sounds simple, but it is one of the biggest challenges, especially now in such uncertain times. Every day we face different challenges, and our needs are constantly changing.

Mindgram supports the mental well-being of our employees. It is also a great tool for working on soft skills and personal development.

I believe that the sustainability of a company must go hand in hand with the personal development and well-being of its team members. With Mindgram, I have confidence that employees are in good hands and that they have a tool to support their mental health, strengthen their resilience to stress and develop their emotional competencies.
Only after the first 3 months of working together, we found out that it was a very good business decision! Mindgram provides extensive support related to mental health. We greatly appreciate the constant support and contact from our caregivers. We especially appreciate personalized materials tailored to our current needs.

All-in-one employee well-being platform
Mental Health & Burnout Level Assesment
periodic survey and global reports on mental health state of the organization
Psychotherapy and coaching
online in various languages
Short waiting time
for an appointment (next-day booking)
Access to specialists
(psychologists, nutritionists,  lawyers, financial experts, etc.)
Prevention: well-being content
(development workshops, meditation, relaxation trainings)
Clinically-proven methods
and evidence-based approach
Mobile app & desktop version
available in different languages
HR Support
dedicated Customer Success manager
Safety & security
GDPR compliant
*based on publicly available data
Holistic 360° well-being platform
Covering 5 well-being areas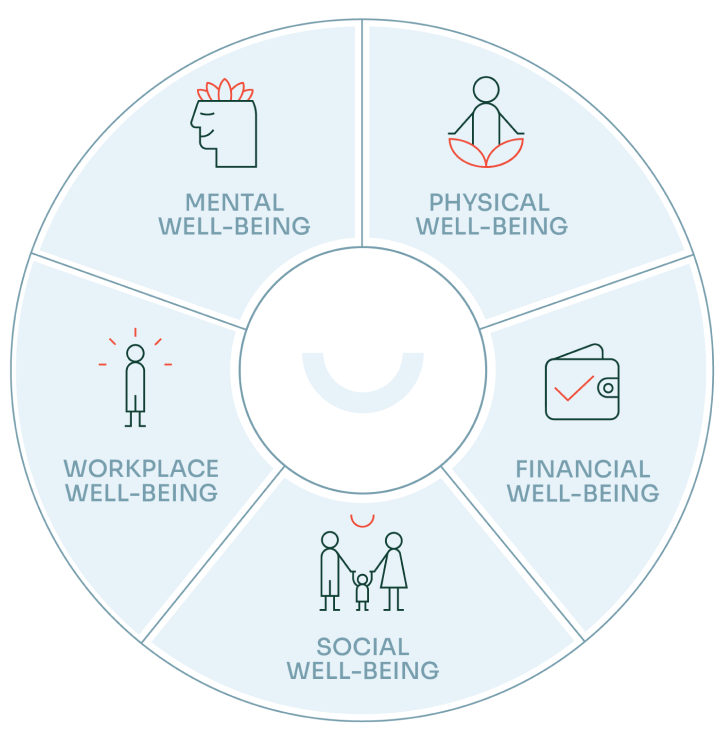 Want to find out the Return on Investment
of the well-being strategy implementation in your company?

Got questions?
We've got answers.
How do I ensure employees will be using the solution and how do I track employee engagement?
For each client our Customer Success Team is constantly monitoring the registration rate and engagement of the users on the platform. Clients can request monthly or quarterly reports. Each quarter a meeting is held with a Mindgram representative to discuss the current metrics and take necessary steps to boost engagement. During this meeting the Customer Success manager discusses Mindgram playbook with activities (some of them to be chosen by the Client). Every week users get information about the most interesting events on the platform and can switch on push notifications available on the mobile version.
How do I see the level of employees' well-being and how can I assess the risks?
Mindgram provides all platform users with the Well-being Vibe: a survey based on clinically proven methods.
This tool helps the users understand their wellbeing in 3 main areas:
General well-being (Emotional, Psychological & Social)
Workplace well-being (Burnout, Energy, Cognitive Ability,  Motivation)
Assessment of anxiety and Depression levels
The Well-being Vibe is a survey consisting of a series of questions related to mood, emotions, relationships, independence, workplace and other important aspects of our lives.
It provides information about which areas need more attention and how the overall well-being changes over time. Individual survey results and recommendations are presented to the participants within our app, while the employer will have access to the full (and anonymous!) report on overall well-being in the organization, enabling them to implement measures that will help set up their teams for success.
How long does the platform onboarding and implementation take?
Our Customer Success Team is responsible for implementing the platform and employee onboarding. The whole process  can take up to 3 months and includes a few stages:
an onboarding meeting for HR representatives
employee invitations to Mindgram
an inaugural meeting for employees
sending resources improving communication of the platform implementation
regular notifications on activities and interesting facts about Mindgram (the promotion of special workshops, newsletter, and others)
reports on the platform use and employee engagement sent periodically
How do you guarantee the safety and anonymity of the solution?
One of the primary and essential principles of Mindgram is full confidentiality and data safety. Mindgram will never disclose any personal data, log-in credentials or information regarding if and how the users are makings use of the platform to any employer. Employers will only receive quarterly collective reports on the total number of  users. Mindgram will not reveal the identities of those people or data on how they use the platform.
Anonymity during workshops. Employees can remain fully anonymous during workshops if they use nicknames and turn off their webcams and microphones.
Chat anonymity. All chat conversations are protected and anonymous (specialists only know the employee's first name and company). Messages stored on Mindgram servers are fully encrypted with cyphers and secured with the users' unique private keys.
Is there a limitation to the amount of therapy sessions or other platform usage?
It depends on the plan the company has chosen. In the basic subscription there's a limited number of video sessions. Psychotherapy & coaching sessions can be purchased additionally at any time. A recommended number of sessions should account for 5% of all employees. For example, a company that employs 500 people should buy at least 25 sessions per month.
Which methodology is used by your therapists? How the quality and certification of your therapists and coaches is controlled?
Only qualified psychologists provide psychological care via built-in chat. They are Mindgram specialists with master's degrees in psychology, who have entered into the register of psychologists of Regional Chambers of Psychologists pursuant to the Act on the Profession of Psychologist and the Professional Self-government of Psychologists of 8 June 2001 (Journal of Laws of 2001, No. 73, item 763).
All Mindgram mental health professionals, including psychologists and therapists employ cognitive-behavioral and integrative approaches to psychotherapy to treat or manage mental health conditions and emotional concerns. It's one of the best-studied and effective forms of psychotherapy.
There are other specialists available on the chat that are not required to have a degree in Psychology. These are business mentors, lawyers and financial advisors.
All specialists at Mindgram are under the constant supervision of experienced psychotherapists. They meet rigorous recruitment criteria and evaluation of experience and competencies. They are subject to a regular psychotherapeutic and substantive supervision, and a self-development program.
Do you have another question?
Drop us your email and we will come back to you quickly.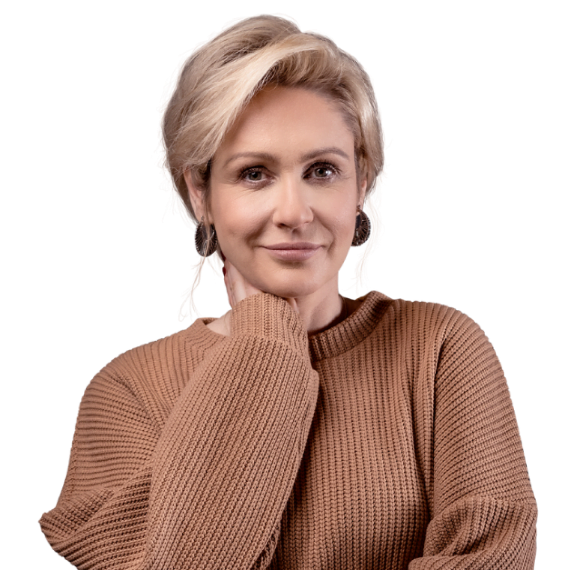 Unlock the best version of your team
Mindgram provides well-being tools to employees in order to build resilient and socially responsible organizations.
Małgorzata Ohme
Co-founder & Chief Impact Officer in Mindgram, psychologist, journalist, television host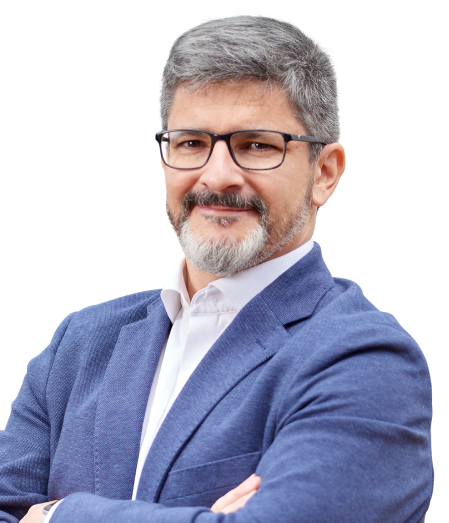 We focus on prevention
In Mindgram we believe that mental health and well-being of employees are the most important assets in modern companies.
Raúl García
Content Manager and L&D Partner at Mindgram
You might know us from...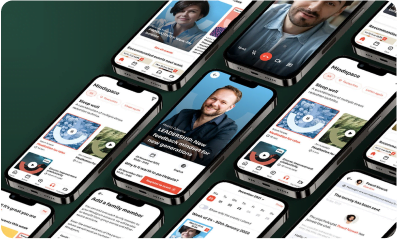 Mindgram makes use of €7 million, maps migration
Warsaw-based mental wellness platform Mindgram has raised €7 million in a seed funding round as it begins expansion beyond Polish borders. Warsaw's...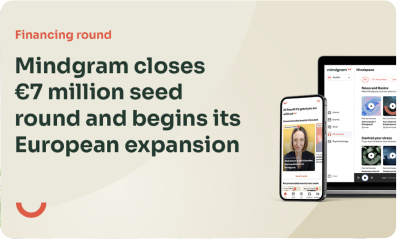 Mindgram bags €7M for mental health care platform
Mindgram, the Polish developer of an employee mental health and well-being platform, has raised €7 million. Credo Ventures led the round, which will be...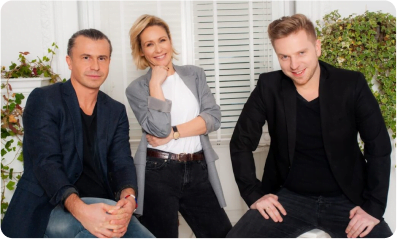 Poland-based Mindgram lands €1.9 million pre-seed funding to improve
Today Mindgram, a European science-based platform and mobile app for complete mental wellness, has raised €1.9 million in a pre-seed roun...
Get the personalized offer
Fill out the form and discover the possibilities of Mindgram