Mindgram's mission
At Mindgram, we have a clear mission. We help employees and companies build strength, resilience and psychological balance. Our goal is to democratize access to psychological care and personal development. In order to implement those two elements, we use the latest technologies and proven scientific methods. We believe that mentally strong people and companies can achieve anything they dream about.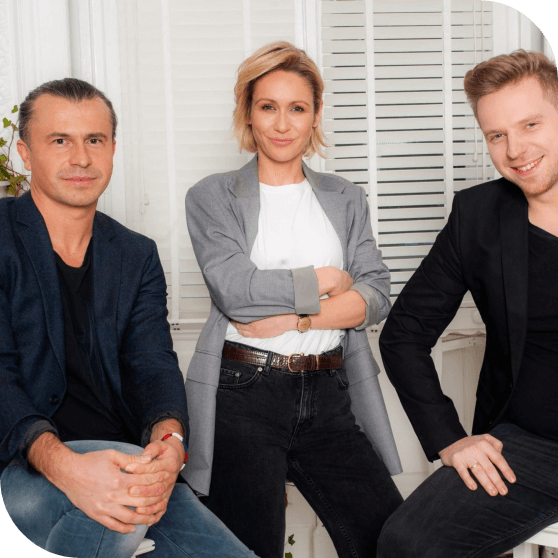 Our team
Agnieszka
Krasa
Content Marketing & Administration Specialist
Adrian
Todorczuk
Video Producer
Jakub
Kuźmiński
Video Producer
Ewa
Iżykowska
Partnership Manager
Katarzyna
Rutkowska
Supervisor of Clinical
Care
Klaudia
Kanar
Clinical Care
Consultant
Sabina
Drozd
Customer Success Manager
Patryk
Budzyński
Clinical Care
Consultant
Jakub
Dróżdż
Clinical Care
Consultant
Paulina
Łyczak
Clinical Care
Consultant
Aga
Piwowar
Payroll Specialist
Agnieszka
Jaślikowska-Nowak
Clinical Care Consultant
Psychodietician
Jacek
Stolarski
Backend Developer
Justyna
Grzywaczyk-Krysztofiak
Head of People & Culture
Karolina
Gałązka
Psychodietician
Magdalena
Ostrowska
Partnership Manager
Marta
Zielińska
Business Mentor
Michał
Abram
Chief Product Officer
Paulina
Gorczak
Clinical Care Consultant
Supporting Adolescent Challenges
Paulina
Jońca
Junior Customer Success Specialist
Raúl
García Díaz
Learning and Development Specialist
Adil
Qureshi
Supervisorteam Lead
Ángela
Sierra Olmo
Psychologist Chat Specialist
Devi
Pereyra Kroll
Supervisor Spanish Team
Ewelina
Solipiwko
In-House Lawyer
Justyna
Turczyn
Clinical Care
Consultant
Laura
Mulatero
Content Specialist Spain
Sandra
Canals de la Vega
Psychologist and Chat Psychologist
Stan
Nowak
Business Mentor in Chat
Camila
Marchesini Moreno
Psychologist chat specialist
Founders
Jakub Zieliński
Co-founder & CEO
Jakub has over 20 years of experience in building and managing some of the largest online consumer brands.
He is a digital health specialist and a co-founder of many thematic websites. He is a frequent speaker at digital health conferences as well as an expert and mentor at the European Parliament.
Małgorzata Ohme
Co-founder & Chief Medical Officer
Gosia is one of the most renowned psychologists and journalists in Poland. She studied Social Psychology at SWPS in Warsaw.
Currently, she is a host on the television program Dzień Dobry TVN, editor-in-chief of many lifestyle websites on the portal kobieta.onet.pl, and the founder of ohme.pl. In addition, she gives lectures and webinars related to psychology, quality of life, life coaching and personal development.
Adam Plona
Co-founder & Chief Operating Officer
Adam is an expert in digital production services. For 15 years, he has been building and managing the largest and most popular websites in Poland. He is the former Vice President of Product at Wirtualna Polska and former CEO of the Domodi Group.
Currently, he is fully focused on the development of the Mindgram platform.